WCTP 601 – Candidate Support Course
WCTP 601 is a step-by-step CANDIDATE SUPPORT COURSE. The course includes modules for each component, embedded professional development, videos, Powerpoints, assignments, suggested deadlines (for those of you that need it!) a new Zoom Video Library, and so much more.
The World Class Teaching Program at the University of Mississippi is excited to offer Mississippi teachers a true online candidate support program complete with monthly Face-to-Face Zoom meetings. We have been at this for awhile and worked hard to produce a high quality program.
Does Online Mentoring  Work? Yes, we have had online candidates score as high as 4.0 on components.
How does it work? All our candidates are provided a mentor that is an NBCT and placed in our WCTP 601 Candidate Support Course. The course is used to supplement the candidate throughout their certification journey.
What is WCTP 601? WCTP 601 is a Blackboard Course. ALL our candidates online and face-to-face have access to this valuable resource but utilize it in different ways. All our candidates complete the Component 1, Assessment Center module. Many of our mentors use WCTP 601 to guide their instruction.
What does WCTP 601 include?  Plus an NBCT Mentor!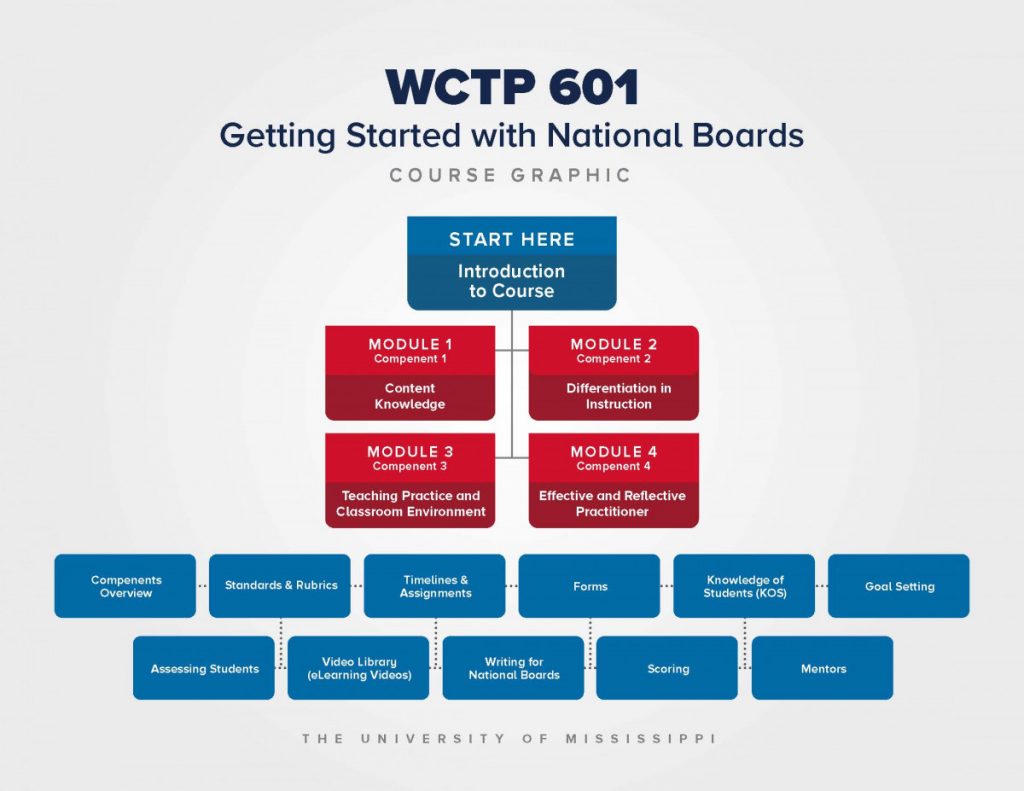 How will I know how to use this course effectively?
As soon as a candidate successfully completes registration with the National Board and us (WCTP Application), they receive their login for the course. They actually have access to a course before they are assigned a mentor. Once candidates login, they watch the video that corresponds with their candidate status (Face-to-Face, Online, or Advanced). A brief video explains how to use and navigate the course. There is also WCTP 601 At-a-Glance (Table of Contents) and a Candidate Survival Guide for our candidates to download.
What does the course look like? See our gallery below.
How long is my subscription to WCTP 601? The World Class Teaching Program follows the same precedent at the National Board. We require candidates to reregister with us for each new certification cycle. Certification cycles run from May (registration opens) to June (assessment window for component 1 closes). We do keep teachers in WCTP 601 through the summer, but WCTP 601 access ends August 1st unless the teacher has already reregistered again with the National Board and the WCTP. Access to WCTP 601 renews when the candidates completes registration.