The University of Mississippi's World Class Teaching Program is honored to now offer national candidate support for teachers pursuing National Board Certification.
What does our support look like?
It is a self-paced, step-by-step Blackboard candidate support course. The course features multiple modules. This is a non-credit course.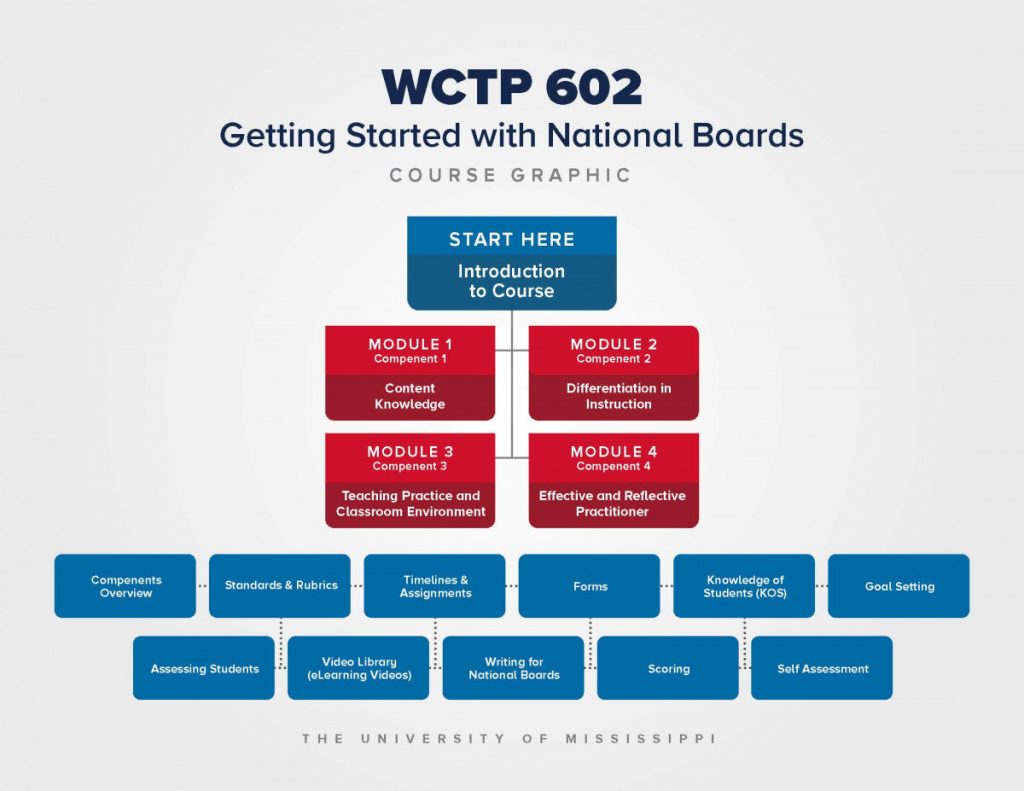 WCTP 602 Video Tour
Will I be provided a candidate support provider?
No, our course is an independent course that teaches candidates how self-assess using provided feedback forms.
Who is the course designed for?
This course is designed for a variety of different candidates such as:
Rural candidates who have no local candidate support
Any candidate that has no local candidate support
As a valuable supplemental resource for candidates that do have candidate support
*Mississippi candidates should enroll with the University of Mississippi's World Class Teaching Program to access a similar course.
Additional Information
Cost – $135.00 annual, nonrefundable fee.
Enrollment is for one cycle year and will end the following August 1. Continuing candidates must reapply each year just as they do with the National Board. * Exception: If a candidate joins in May, June, or July they will remain in the course until the following August.
If a candidate does join in late spring, after March 1, their enrollment will last through the upcoming school year. Meaning they would have course access until August 1 the following year.
APPLICATION – Click Here
Payment, $135 is due upon completion of the application. 
Candidates are enrolled every two weeks. Once your application has been submitted and your enrollment fee paid, we will be in contact within two weeks with your login information.

Thank you for allowing us to be a part of your certification journey.