Carefully read over this page and take notice of all the links and resources that are provided. Resources include an updated Scoring Guide with Sample Score Reports, Frequently Asked Questions, and Scoring Calculator. Remember, you will not receive a total score UNTIL you complete all four components.  You will receive feedback on each component. National Boards will also offer recommendations as to whether you should consider redoing the component – definitely if you score below the floor score of 1.75. Scoring below 1.75 on any component will prevent certification.
Candidates have the option of redoing right away or waiting until you receive a final score. For this reason, continuing candidates may choose to wait and see what they score on other components before they decide to redo a component. Keep in mind scores are also weighted.
Updated Scoring Guide (Essential read if you are planning to retake a component)
Score Release Frequently Asked Questions for First-Time Candidates
Weighting of Scores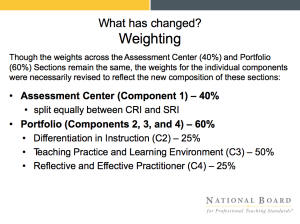 The World Class Teaching Program at The University of Mississippi will be closed for Christmas Holidays starting December 19 at 5:00 p.m. and will reopen January 2, 2017 at 8:00 a.m.
The National Board customer support team will be available to answer any questions at 1-800-228-3224, Monday through Friday from 8:00 am to 6:00 pm CST. Please refer to the schedule below for exceptions to these times of availability over the holiday season.
December 22-23: 9:00 am – 4:00 pm CST
December 28-31: 8:00 am – 3:00 pm CST
The World Class Teaching Program has a plan in place to help advanced candidates successfully complete their journey to certification. There will be an Advanced Candidate module in WCTP 601. Advanced candidates will first be placed in WCTP 601 and asked to complete the module. Candidates will then be placed with a mentor. To get started now, please, go back and progress through the interactive graphic on the WCTP homepage.

Advanced candidates must first register with the National Board (step 4) and then complete the WCTP application (step 5).