Interested in National Boards?
Check out the link below for an interest video presentation and more!
Learn More
NEW January 2021 – The WCTP at Ole Miss is pleased to introduce a NATIONAL candidate support program, WCTP 602, a thorough self-paced, step-by-step Blackboard Course. Click here to learn more: WCTP 602
Mississippi Teachers, get a copy of our overview one-pagers for the National Board Process and our candidate support: MS Overview 1-Pagers
Sometimes, 1 + 1 = 4
Complete the National Board Process in two years.
Complete 1 component in the spring and finish the following year.
FIND OUT HOW HERE
The World Class Teaching Program at the University of Mississippi is assisting school systems and teachers in understanding National Board Certification. National Board Certification is dedicated to defining, identifying, and recognizing accomplished teaching in the U.S.A. National Board Certification is a demonstration of teaching practice as measured against high and rigorous standards.
Starting in 2022-2023, $50.00 annual fee! Scholarships for Adams, Amite, Bolivar, Claiborne, Holmes, Issaquena, Jefferson, Leflore, Quitman, Sharkey, Sunflower, Tallahatchie, Washington, Wilkinson, Yazoo. Candidate Support includes a trained NBCT mentor in your certificate area, access to WCTP 601 (Blackboard step-by-step course), Pinning Ceremony, Super Saturday, and additional trainings.
Please, use the interactive graphic below to find out more about the National Board certification process and candidate support provided by the University of Mississippi's World Class Teaching Program.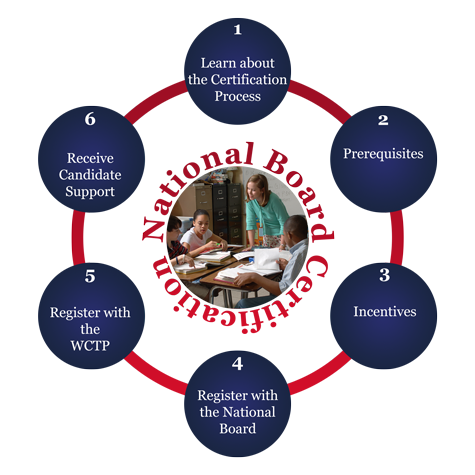 Available Now – Three Types of Mentoring
Face to Face w/WCTP 601 Enrollment
Online Candidate Support – Available to you anywhere. Includes Face-to-Face online monthly Zoom meetings with WCTP 601 our Self-Paced, Step-by-Step candidate support course, which includes a NEW Zoom Library of instructional videos, and an assigned and trained National Board Certified Teacher as your mentor.
* New* UM WCTP Bring it Home Cohort – Let us bring National Board mentoring to YOUR school district with the development of a Face-to-Face 2-year cohort and utilizing our online candidate support course, WCTP 601. This cohort is designed for schools/districts that are not located near one of the World Class Teaching Programs.
All our candidates, state and national, are placed in our Blackboard online Candidate Support Course, which is step-by-step and self-paced.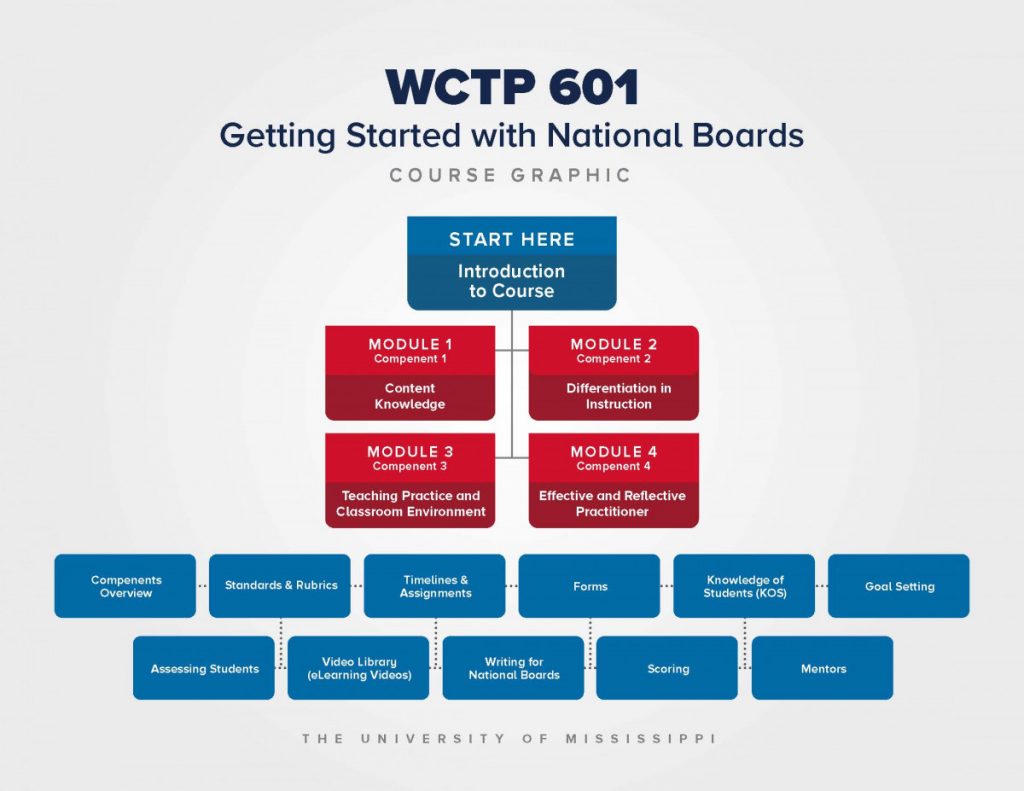 Mission Statement
To provide meaningful resources and beneficial trainings that aid candidates in their certification journey.
To provide highly qualified and well-trained mentors that consistently support and assist candidates.
To increase program accessibility, communication, and effectiveness through the use of technology and social media.
To partner with school districts in supporting their candidates and by providing meaningful professional development opportunities for their faculty.
To aid in the continual and professional growth of certified teachers as teacher leaders by providing additional leadership opportunities.