Face-to-Face Mentoring
Face-to-Face mentoring is offered at Southaven, Oxford, Tupelo, Madison (Madison County teachers only), and Grenada for most certificate areas. Mentoring meets twice a month, alternate weeks, for two hours. Mentoring groups range in size from three to eight candidates and provide an opportunity to discuss and collaborate.
Face-to-Face candidates have access to WCTP 601, our self-paced, step–by-step candidate support Blackboard course. It is used as a supplemental resource; however, all our candidates, including Face-to-Face candidates complete the Component 1 module to prepare for the assessment center. It is the mentor's choice as to how they choose to incorporate WCTP 601.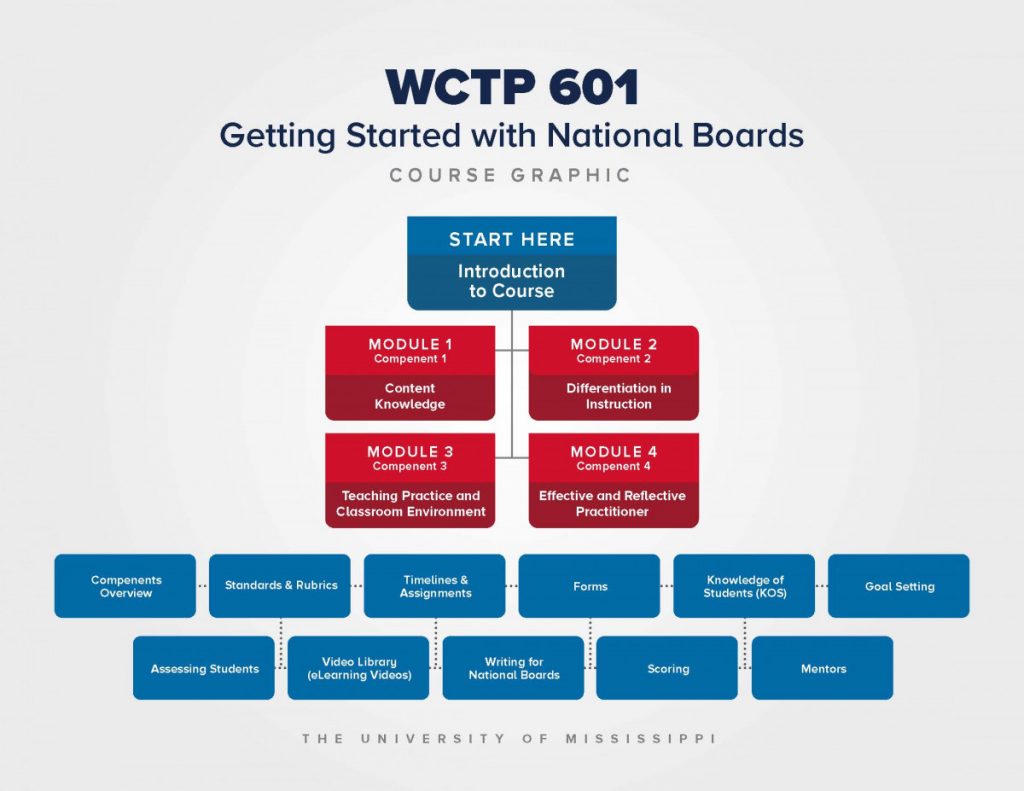 Once a candidate's WCTP application has been verified, we email the candidate their login for WCTP 601 and place them in a mentoring group. CEUs can be earned by attending mentoring AND using WCTP 601.
All of our mentors are certified National Board teachers. Candidates are placed with a mentor that certified in their specific certificate area. We have an online mentoring group for miscellaneous certificates if a mentor is not available. In Grenada, mentoring is just being established so there is one NBCT at that location that mentors for all certificate areas.
Face-to-Face Mentoring follows the below schedule of meetings.
Fall
September – 2 meetings (we always start the second week)
October – 2 meetings
November – 2 meetings
Spring
January – 1 meeting
February – 2 meetings
March – 2 meetings
April – 2 meetings
May – 1 meeting (electronic submission is covered)
Candidates will join mentoring groups until National Board registration is closed on February 28.
Candidate Protocol for Face-to-Face Candidates
Before You Attend Mentoring
Register every year that you participate in the National Board process with the National Board and WCTP prior to August.
Complete and agree to the WCTP Participation Terms. The WCTP will check the National Board database to confirm terms have been met prior to providing candidate support.
Complete the NB Process Timeline. This can be found in WCTP 601, Preparing for National Boards.
Print out the Summer/Fall & Winter/Spring timelines and read over them. These can be found in WCTP 601.
Print out and read the following documents: Guide to National Board Certification, Your Standards, Components, General Portfolio Instructions, and the Scoring Guide. (See Candidate's Toolbox at wctp.olemiss.edu).
Login to WCTP 601 and watch the ten-minute introduction video for WCTP 601 Face-to-Face Candidates. Face-to-Face candidates use the supplemental course differently than online candidates.
Mentoring Protocol for Meetings
Attend all the meetings you can. If you cannot attend, be thoughtful and email your mentor. If a meeting is canceled due to lack of participation, the meeting will not be rescheduled.
Ask your mentor how they want you to provide materials for them to read, electronically or in a hard copy. This IS the mentor's choice.
All materials submitted to mentors must be submitted as a WORD file unless otherwise specified by the mentor. (You can use the "Save as" feature if you use an alternate program.)
At the first meeting, provide your mentor with a copy of your National Board Process timeline.
Discuss what you are planning to teach/video before you teach or video with your mentor.
Follow the suggested Component Guidelines for Summer/Fall and Winter/Spring to stay on track for completing the component(s).
The mentors will provide reading deadlines for holidays and final submission. Be prepared for this and respect their deadlines.
Do not procrastinate. Mentors serve numerous candidates and will have limited time per candidate as the deadline for submission approaches.
Email your mentor with any questions. Come to mentoring with questions.
WCTP 601
Watch the Introduction video for Face-to-Face candidates and print out the Candidate's Survival Guide.
Complete the Component 1 module, content knowledge. This is the WCTP's way of preparing candidates for the assessment. Start this module in the fall regardless of when you are planning to test. Candidates should study throughout the process for the assessment.
Make sure you understand how to reset your WCTP password.
Peruse the other components. Every resource the WCTP has in its possession is embedded in the components. The modules lead you through the completion of the components.
Some mentors may choose to use WCTP 601 as a mentoring tool. Candidates do not have to complete the component assignments unless instructed by their mentor to do so.