National Board Certification is a process for a certified teacher that has completed three years in the classroom. 
Below, you will find information on available teaching careers and contact information about how to find out more in the state of Mississippi. Mississippi is always looking for a good teacher! Maybe it is you!
Teacher Assistants
Assistant Teacher Requirements
Assistant Teacher Qualification Policy Updates (Due to COVID)
*For additional information contact
 Mississippi Department of Education, 601-359-3483
Alternate Route to Teacher Certification
(Requires a four-year degree college degree in any area)
General information on the programs listed below

Teach Mississippi Institute (TMI) 
The University of Mississippi, 662-915-7314
What is Teach Mississippi Institute Online?
TMI Online is an MDE-accredited alternate route program for college graduates seeking certification to teach in Mississippi (a full list of subject areas and grade levels is included in the Testing Requirements section). It is broken into two components, TMI 1 and TMI 2, both of which are taught online.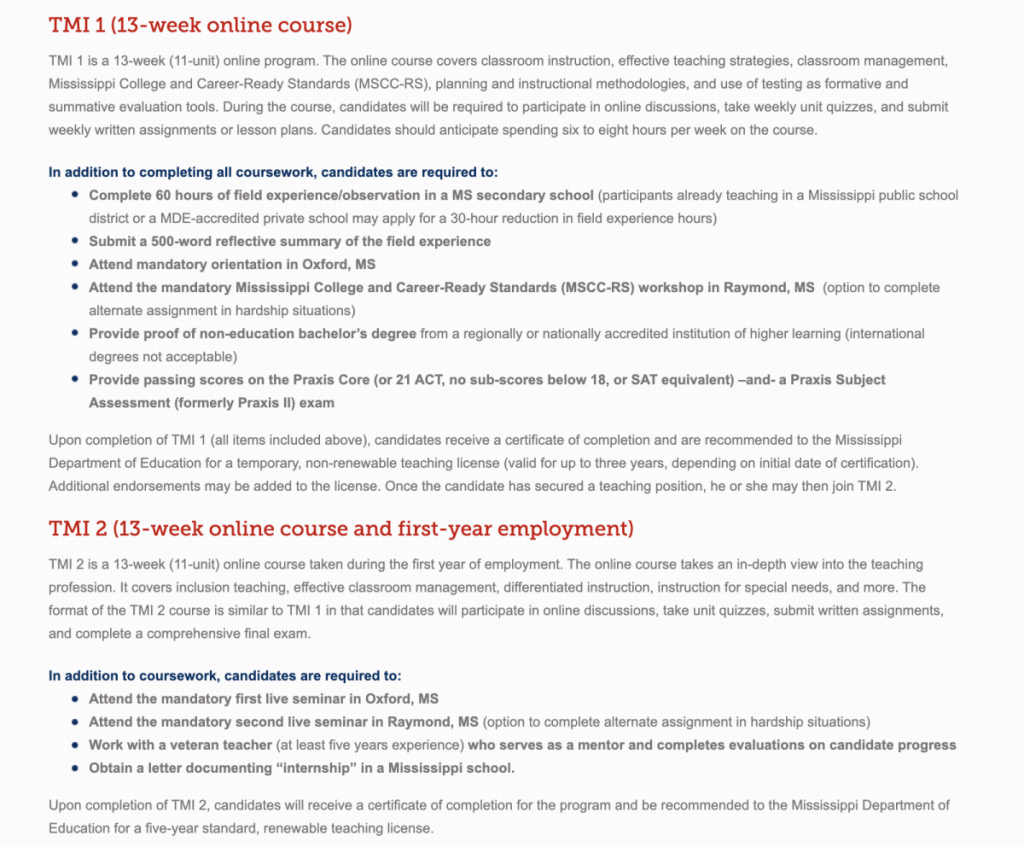 Masters of Art in Teaching Alternate Route (MAT)
Mississippi Alternate Path to Quality Teachers (MAPQT)
American Board for the Certification of Teacher Excellence (ABCTE)
*For additional information about the three above programs, contact the Mississippi Department of Education, 601-359-3483
Certified Teacher (Traditional four year path to teacher certification)
The University of Mississippi, 662-915-7350