$ Pay As You Go $ 
Notice: National Board cycles run from late spring/early June to February 28. You may indeed Pay As You Go, but if you choose to register the second semester (spring), full payment will still be due on February 28. We consider summer/fall to be semester 1 and spring to be semester 2.
Financial Costs Associated with National Board Certification
•  Components are $475 each
•  $75 annual non-refundable National Board registration fee
Financial Assistance
•  The state of Mississippi will reimburse each teacher for their first attempts of all four components AFTER the teacher receives and submits the offical letter to MDE through their school's central office.
•  Various school districts will help assist teachers with the initial costs.
Check with your central office to see they participate.

The hardship often is the teacher must pay up front. However, there is a NEW system that went into place with the NEW process that allows teachers to Pay as You Go!
Pay as You Go

Register with the National Board. Pay your $75 and make sure you've released to 3rd Party
Purchase and Register for a Component (directions are listed below)
Login to "My Profile" and select the "Make Payment" tab on the left side of the screen. Pay any amount that you like as often as you like.
It's just like paying on a credit card. Delete the total amount and type in ever what you want to pay.
Purchase a Component Directions
Step 1: Select Component (Login to your profile)
Candidates are able to register for specific components and each component must be purchased individually. Candidates are given the option to 'purchase' a component, which means they will begin the component registration process.
Note that payment is not due at the time of 'purchase', but the candidate must complete the required information through Order Review (step three) of the Purchase Component tab for the component registration to be reflected in their account.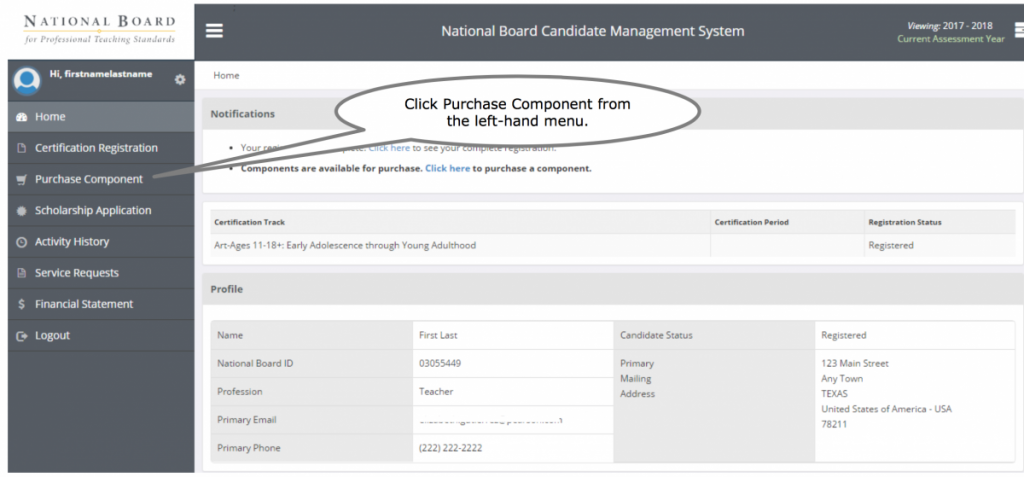 Step 2 – 6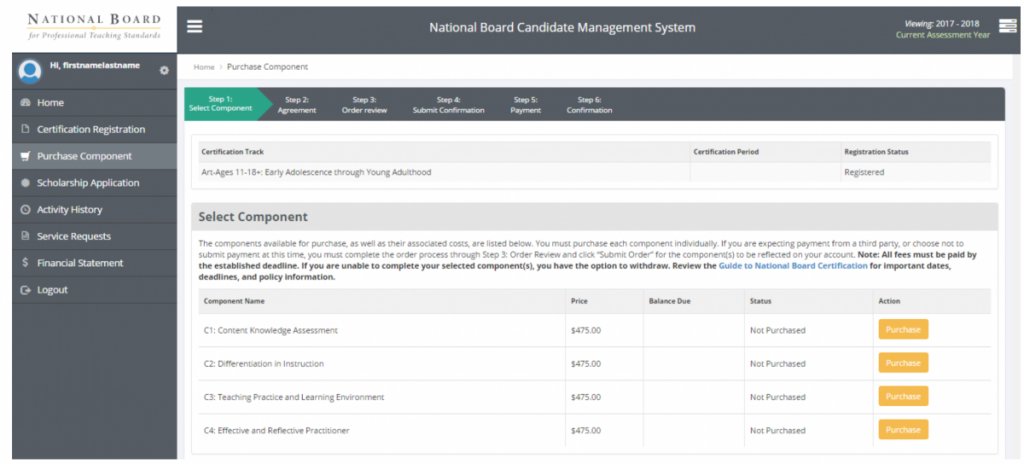 Once you have selected and purchased a component then you may begin paying on the component. You will not see the status of  'Candidate' in your profile until one component is paid for in full. Do not let this bother you.
You may then login at any time and pay any amount toward your component. Download your copy of the Suggested Pay-As-You-Go schedule here: Suggested Pay As You Go Schedule